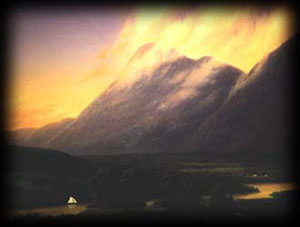 Thomas Locker
All Rivers Flow Somewhere font size=+2>



A WALK TO REMEMBER

A sacred journey around Lake Superior
has been successfully concluded!




Welcome to "Environmental Justice-A Journal for Life." Although many of these pages will focus first on environmental issues facing Native American communities, please understand that there is no real, solid line that divides "my" environmental problem from "yours."

As the guiding principle for these pages says: "All rivers flow somewhere." A nuclear waste site, uranium tailings, improper petroleum disposal or storage, unsafe water, sewage containment, dumping of toxic wastes, the leavings of manufacturing processes-they all eventually will head "downstream" in one way or another, be it on the wind, by seeping into underground water tables, or flowing with lakes, rivers, streams. and oceans.

The luminescent artwork by Thomas Locker, above, not only illustrates the journal's philosophy, but it also has very special, heart-deep meaning for me. I was originally raised in the Catskill Mountains area of New York, where my grandfather and I roamed hills and meadows and went up the side of a mountain to fill jugs with clear, fresh sparkling spring water; where in winter I whooped down hills and across icy streams on my Flexible Flyer sled; and in early summer my patch of wild strawberries stained my memories with tastes, smells and textures yet unequalled.

Now that I live in Oklahoma in the headquarters area of the Delaware Tribe of Indians , I realize what a rich treasure I was given in being able to grow up in a portion of our original homelands. Over many generations, and through many "forever" treaties, the Delaware were moved from Lenapehoking to the final government-selected site in Oklahoma.

Originally, the Delawares, called Lenape in the original language, lived in present-day New Jersey, and vast portions of New York (including Long Island), Conneticut, Pennsylvania, and Delaware. The varied landscapes of that area, from fresh-blown seacoast to towering mountains rich with game is something that we today cannot begin to imagine in its pre-colonial history.

But I was fortunate enough to spend growing-up years in country areas there, and to explore many unspoiled places with my grandfather. The beauty of that region remains with me today, and so I am especially happy to introduce Indian Territory's environmental resources with Locker's evocative art.

You can see more of his work, and learn more about the Catskill Mountains at The Catskill Center for Conservation and Development . While there, enjoy several other light-hewn works of art; they will remind you that the Hudson River School of Art became internationally famous for very good reason.






Go on to Environmental Justice: A Journal for Life, Page 2
Indian Territory or return to the Index

Updated Sept 7 2000