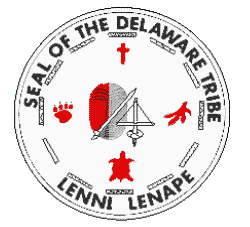 Introducing Doug Donnell,
Drum Keeper,
Southern Eagle Ridge Singers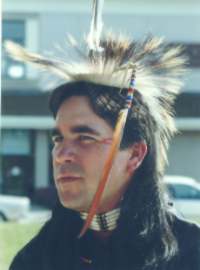 Doug Donnell heads the Cultural Drum Committee, which is part of the Delaware Culture Preservation Committee. He has been active in Pow-Wows for over twenty years as a Southern Straight Dancer. He is also the main singer of the Delaware Social Dance songs, and is the head singer, founder and drum keeper of the the Southern Eagle Ridge Singers.
Doug is very active in the Johnson O'Malley and Title V programs for Indian students from the surrounding area, and he teaches Native American dance and culture. He has committed his life to learning about, and then and teaching the history and culture of his Delaware Tribe.
Doug's Delaware family background is from the Ketchum, Curleyhead, and Thompson families. One of Doug's uncles, the late Lewis B. Ketchum, was chief of the Delawares for twelve years. Another of Doug's uncles, Dee Ketchum (L.B. Ketchum's brother) was elected as tribal chief in November, 1998.
Doug was born and raised in Copan, Oklahoma, and now resides at Dewey, Oklahoma. He has two children, April and Spencer, and has been married to his wife Leslie for fourteen years. Doug is presently working for Red Man Measurement Company in Tulsa.


Back to the Social Dance Page