NASA Selects First Native American Astronaut;
John Herrington, Chickasaw, Successfully Completes Training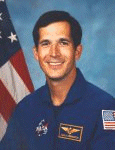 Lt. Cmdr. John Herrington, US Navy, is NASA's first officially-recognized Native American astronaut. Herringon, born in Wetumka, OK, has completed approximately two years of diverse NASA training and experiences, including launch and payload processing operations Kennedy Space Center, FL.

He is the great-grandson of original Chickasaw enrollee Bina Underwood Owens and John Owens; the grandson of Cub and Louella Owens, and the son of James Edward and Joyce Owens Herrington. Proud of his Chickasaw heritage, Herrington enjoys being a role model to Native American students.

Both he and his siblings are first-generation college graduates in their family, and Herrington is quick to stress the importance of education and also setting and achieving goals. As a NASA Astronaut Candidate, Herrington has the opportunity to perform many speaking engagements, including groups such as the American Indian Science and Engineering Society (AISES) and the Native American Society of Engineers.

Herrington, a Naval test pilot, has logged more 2,300 flight hours in more than 30 different types of aircraft. he is a life member of the Association of Naval Aviation. A distinguished Naval Graduate from the Aviation Officer Candidate School in Pensacola, FL, Herrington has won numerous commendations during his military service, icluding the Navy Commendation Medal, the Navy Meritorious Unit Commendation, the Coast Guard Meritorious Unit Commendation, the Coast Guard Special Operations Service Ribbon, the National Defense Medal, three Sea Service Deployment Ribbons, and numerous other honors.

He was graduated from the University of Colorado at Colorado Springs in 1983, followed by a Master of Science (MS)r degree in aeronautical engineering from the U.S. Naval Postgraduate School in 1995.

He and his wife, Debra Ann, have two children: Jessica, 7, and Amanda, 3. Herrington, who enjoys many kinds of outdoor sports, considers that family time is one of the highest priorities in buildiing a successful, balanced life.

Herrington's first space flight assignment will be announced later. Currently, Herrington is assigned technical duties in the Spacecraft Systems/Operations Branch of the Astronaut Office.He has trained as a Mission Specialist, with emphasis on flight engineer duties. His pre-light experiences include such diverse experiences as flight modelling in the simulator at JSC as well as simulated Shuttle landings in a specially-configured aircraft, plus safety and emergency preparedness classes at KSC.




Thanks to Enchanted Backgrounds for the fractal border
About fractals: visit Clint Sprott's sensational site!
You might also want to visit The Society for Chaos Theory in Psychology and Life Sciences

Return to the Table of Contents, Indian Territory, page 1
or learn more about NASA & aerospace at Starbase 1




<!Begin Starsailor code in table form >